Gene MADRA Fashion Doll Ashton-Drake Mel Odom SIREN IN THE NIGHT NRFB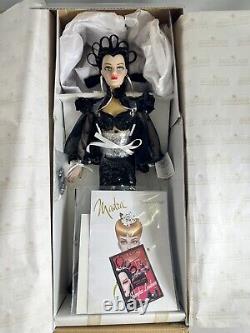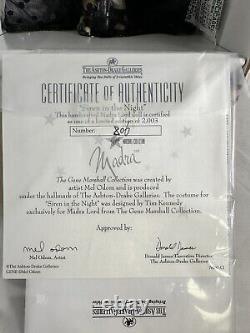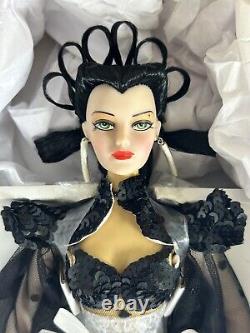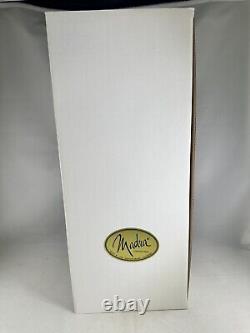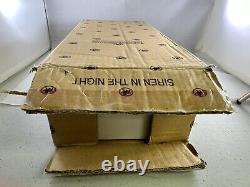 "Siren in the Night" is a striking and darkly beautiful new look for Miss Madra Lord. This costume was designed for her to wear in the movie "Shanghai Lowdown" filmed in 1942, in which she plays the villain, opposite Miss Gene Marshall as the heroine.
The all-black exquisite dress has a hand sewn sequin and soft, sheer tulle top, with a solid black sequin over skirt with curled accents and a soft tulle, longer attached underskirt with an array of black sequins sewn onto it throughout. The dress is perfectly fitted to miss Lord's proportions, and flows to a slight train at the bottom in the back, with a long slit up the front of the underskirt. The solid black sequin parts of the dress are lined in flesh colored silk. As well she wears a capelet also of black, hand sewn sequins and curled accents at the shoulders (also fully lined in flesh colored silk), which lead to long flowing soft black tulle sleeves also featuring an array of black sequins.
She wears nude, seamed hosiery, and matching black sequin and tulle slip-on heels. She wears exotic long "Ruby" dangling earrings, and hair accents matching her costume with hand sewn black sequins and red beading.
Her shiny black silky hair is styled in an elaborate updo perfect for this costume and this character portrayal. Madra Lord is a fictional movie star of the mid-20th century and a character in the world of the Gene Marshall fashion doll collection. Dressed and Basic dolls were produced by both Ashton-Drake and Integrity Toys, as well as Madra-specific film costumes, personal outfits and accessories. Gene is a collectible fashion doll inspired by the Golden Age of Hollywood. Created by Mel Odom she debuted in 1995 and was one of the first large fashion dolls targeted toward adult collectors. The Gene line was produced by Ashton Drake from 1995 - 2005, then by others with modifications. Made of hard plastic (ABS) body with a porcelain-like finish and vinyl head with rooted hair, the Gene doll stands 15 1/2 tall, has painted eyes and applied eyelashes. The first dolls had joints at the neck, shoulders, and hips.
Later dolls added jointing at the knee, elbow, waist, and wrist for better pose-ability. Fashions for Gene exemplify the wardrobe of a Hollywood film star; glamorous film costumes, lingerie, day and evening wear of the mid 20th century. Friends of Gene Marshall include Madra Lord, Trent Osborn and Violet Waters. Born Mabel Lorkovic (1911 --) in Milwaukee, Wisconsin, she began acting in films as an extra late in the silent era. Her distinctive husky voice and vivid beauty gained Lord better roles in the early 1930s, but stormy personal behavior hindered her rise.
Following Infidelity (1935), for which she received the first of her five Academy Award nominations, Lord was signed by. And was one of Hollywood? S top-ranked stars for more than a decade as a specialist in? S 1942 Oscar for Blond Lace signaled a gradual transition into featured and character roles, in which she excelled and kept her screen and television career active in the 1960s.
After taking over the lead in Hello, Dolly! In 1966, intermittent Broadway successes followed.
To date, Lord has appeared in over 60 films. These are photos of the actual models you will receive, so look closely at all of them to make up your own mind about condition.
Most are new or even never removed from box, but a few look like they have been taken out of the box to dress with the accessories. If I can see any obvious problems or missing parts, I will include close-up photos. Most items that I sell are used or pre-owned. I do not smoke, but can't guarantee the previous owners didn't.

---