Gene Fashion Doll Ashton-Drake Mel Odom GENTLEMEN PREFER BLONDES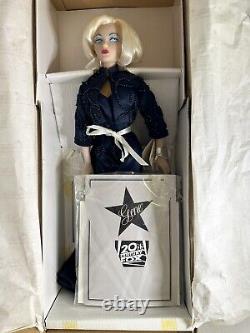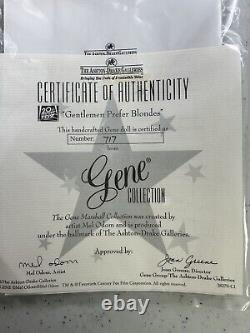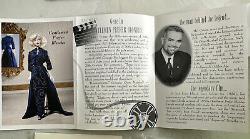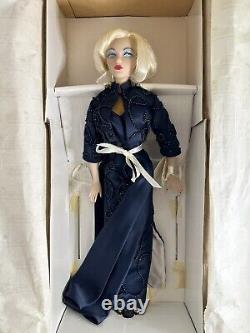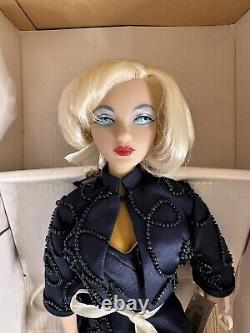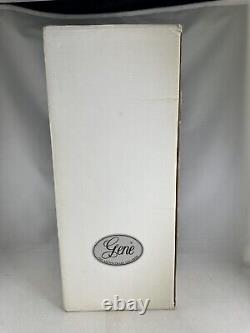 It was the twentieth anniversary of 20th Century Fox, and they were celebrating with a gigantic gala. All Hollywood was invited to attend, wearing a costume from any of 20th Century Fox's many successful films to the gala event. Arranged to borrow some prints of some of 20th Century Fox's biggest hits so that their roster of stars could pick and choose their favorite 20th Century Fox costumes.
There, in a private screening room on the Monolithic lot, Monolithic's best and brightest huddled in the darkness, costume department personnel close at hand, eager to see which costumes would suit them best. "Hmmmmmm, " thought Gene Marshall, as the rest of the viewers laughed as the beautiful Lorelei Lee ever-so-clumsily-on-purpose spilled her drink on her co-star's suit in Gentlemen Prefer Blondes.
That's my dress--sexy and smarter than anybody would guess--just like Lorelei! I could get away with that! I know what I prefer--thanks ever so! And with that, she was off to the hairdresser's to change her hair to a breathless shade of blonde..
Gene is a collectible fashion doll inspired by the Golden Age of Hollywood. Created by Mel Odom she debuted in 1995 and was one of the first large fashion dolls targeted toward adult collectors. The Gene line was produced by Ashton Drake from 1995 - 2005, then by others with modifications. Made of hard plastic (ABS) body with a porcelain-like finish and vinyl head with rooted hair, the Gene doll stands 15 1/2 tall, has painted eyes and applied eyelashes. The first dolls had joints at the neck, shoulders, and hips.
Later dolls added jointing at the knee, elbow, waist, and wrist for better pose-ability. Fashions for Gene exemplify the wardrobe of a Hollywood film star; glamorous film costumes, lingerie, day and evening wear of the mid 20th century. Friends of Gene Marshall include Madra Lord, Trent Osborn and Violet Waters.
These are photos of the actual models you will receive, so look closely at all of them to make up your own mind about condition. Most are new or even never removed from box, but a few look like they have been taken out of the box to dress with the accessories. If I can see any obvious problems or missing parts, I will include close-up photos.
Most items that I sell are used or pre-owned. I do not smoke, but can't guarantee the previous owners didn't.

---